A short while ago I had a go at transforming the base of an old lamp I had. To cut a long story short it all went Pete Tong and I made a mess of the whole thing. Not to be too badly put off I salvaged the guts of the lamp (the wire, the elements etc) and scoured the net for a lamp base tutorial that I thought I could make.
Enter
'Not just a housewife'
and her fabulous tutorial for an MDF lamp. I had some leftover MDF, the salvaged lamp guts, a jigsaw to cut the wood and pretty much everything else I needed so thought 'let's give it a go'.
This is the end result:
I love it! My only regret is that a) I painted the circles in Gloss paint and wish I hadn't - it's too thick and too shiny & I prefer NJAH's end result, and b) I wish I'd done more than 3 different sizes of circles.
The tutorial was very easy to follow and I pretty much followed it to the letter. The tip for running the lamp wire through the base was a brilliant one and gives it that tidier look from behind.
I used narrow plastic piping through the centre of the lamp and it worked just great and gave the lamp more stability.
When it came to fixing the element to the top small circle I used 'Fixsall' glue. This glue is better than any craft glue I've used and I use it for pretty much everything, but be warned it's super strong. It's not a superglue, it's so much more than that and IMO so much better.
Begrudgingly I did buy the shade. I had tried to recover a smaller one but me and spray adhesive don't get along and it was a complete disaster. I was going to give it another go but I'd ran out of my first choice of fabric and then I spotted this one for sale at 1/2price (£7) at Homebase so bought it - after ALOT of umming and arring.
So there you are, my £7 lamp now sitting happily on my handbuilt side table in the front room.
I think
this
one from 'Not just a housewife' will be my next lamp to make.
Enjoy and Thank you 'Not just a housewife'
This post is linked to:-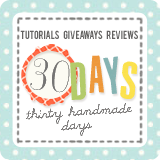 '2805'
'Three Mango Seeds'